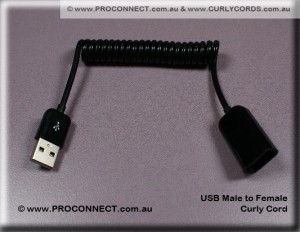 USB Male to Female
Extension Cords.
Sometimes called 1m cords because that is how much cable is in them.
Approx 80 mm (8cm) coil + short straight tails.
Will extend to a max of around 800 mm or so. (0.8m)
$12.50 +GST
Includes FREE DELIVERY Australia wide
Add to Order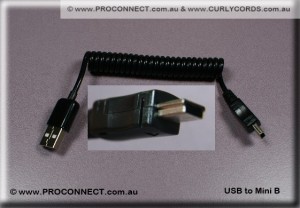 USB Male to Mini B Male
Sometimes called 1m cords because that is how much cable is in them.
Approx 80 mm (8cm) coil + short straight tails.
Will extend to a max of around 800 mm or so. (0.8m)
$12.50 +GST
Includes FREE DELIVERY Australia wide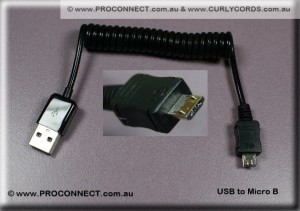 USB Male to Micro B Male
Sometimes called 1m cords because that is how much cable is in them.
Approx 80 mm (8cm) coil + short straight tails.
Will extend to a max of around 800 mm or so. (0.8m)
$12.50 +GST
Includes FREE DELIVERY Australia wide
Add to Order
USB 2.0 CABLE
We have a limited quantity of commercial quality,  USB Curly Cords.
This special cable has a twisted pair plus 2 straight cores, together with a double screen: 1 Foil, 1 Spiral Lapp. then a Black Polyurethane sheath to 4mm.
The cable is Water Resistant, UV Stable, Cut and Abrasion Resistant, and Resists Grease, Oils.
We have some cords pre-made in stock, and also have  quantity of connectors in stock.
We also have a small quantity of a very special figure 8 cable. Which contains this USB2.0 cable on one side, and a 7 core screened small signal cable on the other.