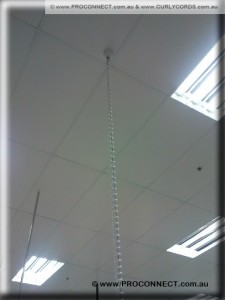 Often called "Shop fitting style curly cords" Our Australian 240v style PVC Mains Flex Cords are Generally used for: 240v Pendant outlets and 240v pendant lighting, drop lighting, display cabinets, refrigeration cords, general use in shopping centres, service stations, hair dressers, and other outlets, and many other applications that would benefit from a flexible, extendable power cord.
These cords are often used for their "Cosmetic Effect" I.E. to make the installation look neat and tidy.
We supply these cords in Black and White. Grey and Orange may also be available as specials. MOQ's may apply.
Number of cores include:
2 Core (Generally custom made cords only)
3 Core (including 1x Green/Yellow Earth)
4 Core (including 1x Green/Yellow Earth)
5 Core (including 1x Green/Yellow Earth)
Core Sizes include:
Coil Lengths include:
300mm extends to 900mm
500mm extends to 1500mm
1000mm extends to 3000mm
1800mm extends to 5400mm
Custom coil lengths made to order (MOQ's apply)
Tail length:
150mm
Custom tails lengths made to order (MOQ's apply)
Note: A small quantity of 3 core 300mm, 500mm,1000mm and 1800mm versions of each of the core sizes up to 2.5mm² are usually available from stock, in both BLACK and WHITE. Larger quantities are made to order.
P.O.A.: Priced on Application
Note: Not all core counts / core sizes / coil lengths available. Some MOQ's may apply.
Please email sales@proconnect.com.au for prices.
Discounts available for genuine wholesalers and bulk orders.
Most Cords are made to order.
Unless specifically indicated, all curly cords are supplied UNTERMINATED.
These extended or Drop Lengths, are not set in stone, and due to the nature of the cords, they are somewhat flexible. The longer you extend them out…the more stretched out the cord looks. And with these cords they are used for cosmetic effect…ie to make the job look nice. So some people like to work on a 2 to 2.5 time extension as they feel this give a nicer cosmetic effect. This of course is a matter of personal opinion, and ultimately it is up to the installer and client to determine what is best for the particular situation. But as a general rule in our opinion we say 3:1 ratio is about right.
This type of cord is generally considered non self retracting.
In fact in these applications you actually don't want the cords to self retract. you want the cord to sit at the designated height. You can stretch these cords out, and they will generally sit at the stretched length.
In many of these applications these curly power cords are fitted off using a stainless steel wire through the centre of the cords which attaches to the light fixture or the pendant outlet.
Note: It is important to not use uncoated wire as this may have an abrasive effect on the cords!
We supply the Clear Plastic Coated 304 Stainless Steel Wire in two sizes:
Part Number PRO-PC7712-30m 1.2mm O.D. with a thin non abrasive clear nylon coating bring it to 1.5mm O.D. Can supply Cut lengths or bulk 305m rolls on request.
Part Number PRO-PC7724 2.4mm O.D. with a thin non abrasive clear PVC coating bring it to 3.2mm O.D. Can supply Cut lengths or bulk 1000m rolls on request.
Swages and Crimp Tools Also Supplied. (Strip the outer sheathing off prior to fitting swages)
Ask us about pendant outlets as well.
Other plugs and sockets also available.